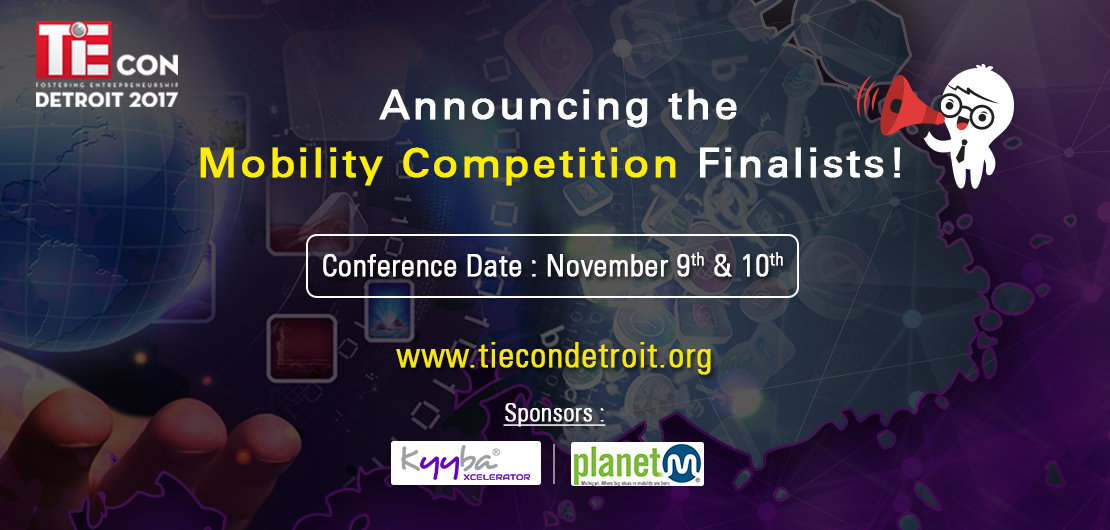 TiECon Detroit 2017 Mobility Competition Finalists






The Mobility Competition is aimed at recognizing the top six second stage startups working on disruptive technologies in broad based industries such as Mobility, Autonomous Transportation, Electric Vehicles, Connectivity, IoT, Automotive, Cyber Security, Smart Cities, and Big Data/Machine Learning. The six finalists will compete before an audience of automotive executives, venture capitalists, angel investors and Silicon Valley technologists. The winner will be eligible to join the Kyyba Xcelerator with a $50,000 investment, support services, and mentorship from Kyyba Xcelerator's extensive global network. With Detroit being the Auto Capital of the world, TiECon Detroit brings top players in the automotive industry, such as OEMs, tier 1 suppliers, investors & other autotech founders.
Testimonials from TiECon Detroit Mobility Competition
"We presented at TiECon Detroit last year and the experience was one we will not soon forget. We enjoyed shaking hands with the participants. One of the speakers was so good that you could hear a pin drop. After the pitch competition we met someone that became both a mentor and investor in our seed round that closed shortly after."
- Lyden Foust, Founder &CEO Spatial.ai

"Attending TiECon Detroit was a significantly impactful experience for my business. I was able to network with so many impressive mentors, corporate executives, and investors. My company was able find new investors and partners thanks to the connections made at the conference, all of whom were crucial for our business to grow. I would recommend attending TiEConDetroit to anyone looking to raise capital, gain insights from talented speakers, or make new connections."
- Jake Moskowitz, Founder & CEO Voyhoy
INVESTOR AUDIENCE
Auto Executives
Venture Capitalists
Angel Investors
Silicon Valley Technologists
AREAS OF INTEREST
Mobility
Autonomous Transportation
Electric Vehicle Technologies
Connectivity Technologies
IoT
Automotive
Smart Cities
Big Data/Machine Learning
PARTICIPANT GUIDELINES
7 minutes for the pitch
3 minutes for Q&A
2 minutes for transition
INCREASE YOUR CHANCES
Have something built (Code, proof of concept, prototype, MVP).
Show customer traction or customer validation (letter of intent or in revenue).
THE PRESENTATION MUST BE IN POWERPOINT FORMAT AND SHOULD INCLUDE
Company Introduction
Problem
Solution
Product
Market
Competition
Traction
Marketing and Sales Strategy
Operational Plan
Team Founders and Roles
LAST YEARS FINALISTS!